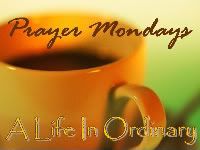 WOAH! I don't even know where to begin...
Some days are easy. Some days are hard. "You take the good, you take the bad, you take them both and there you have the facts of life." I don't like it, but what's a girl to do? I'll tell you - she learns and she grows. She tries to get better at how she responds to the hard days. She tries to encourage others more because focusing on others needs makes the hard days not seem quite so bad. She finds something to express gratitude for even on the worst of days because she knows that God is a great big God and that he will use everything for good - even the sucky stuff!
Lord Jesus, COME. We desperately need You. We need to sense Your presence and see Your hand in so many situations. God, grant us discernment, especially in those difficult times when we are more likely to assume and react in the moment rather than respond in the manner You would have us to. Help us to focus on You and You alone. Draw us into a deeper relationship with You. May our hearts break over those things that break Your heart and may we rejoice when the heavens rejoice. Live in and through us this week. Your kingdom come. Your will be done.