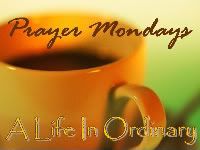 Join us for Prayer Monday at A Life in Ordinary.
The last few weeks have been trying and I'm just working on keeping it all together.
Please pray for my family. We are going through a little bit of a rough patch. Pray for strength and healing.
I could also use a little wisdom when it comes to decisions for the future. House. Job. Church.
The end.