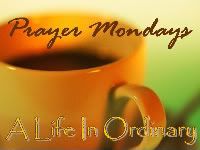 This week God has continuously brought something from Francis Chan's
Crazy Love
to mind:
"People who are obsessed with Jesus aren't consumed with their personal safety and comfort above all else. Obsessed people care more about God's kingdom coming to this earth than their own lives being shielded from pain or distress." (p. 88)
I can't tell you how many times I pray for God to keep people I love safe during the week. I really felt checked this week, though, to simply pray for God's will to be done in the lives of those who I started to pray safety over. I don't think it's wrong to pray for personal safety, but this week I have come to realize that I sometimes put safety above God's will when praying.
Praises
1. Tori made it through the funeral. She and her sisters are healing day by day. Thank you for your prayers. Please keep their family in your prayers as the healing continues.
2. My friend, Leonard got to come home this week.
3. Our Superintendent resigned. It may seem inappropriate to list this as a praise, but I honestly believe that it's simply God's will playing out.
Prayer Requests
1. Cairo School District. Continue to pray for God's will to be done. Today the board will meet to discuss possibly laying off more teachers. I have no idea what is going to become of this district, but I really do believe that God's way is the best way. Please pray to that end.
2. My Precious
3. Please pray that I would be more disciplined both physically and spiritually - that my body would cooperate with my physical discipline efforts and that my mind and spirit would cooperate with my spiritual discipline efforts.
4. Bible Study begins this week. Pray for Crystal as she facilitates and leads.
My Prayer
Heavenly Father, thank you for Your mercy and grace. Thank you for checking our spirits and giving us to chance to continually grow in You. Thank You for never giving up on us. God, bless each one taking part in this prayer circle this week. May this ministry continue to grow. Grant us the strength, wisdom and encouragement we will need to make it through this week.
Amen