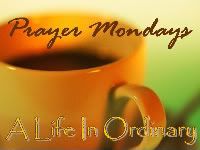 Lately, I feel like everyday should be Prayer Monday. There's so much hurt, so much destruction, so many people feeling devastated...
Flooding continues in Southern IL. It's perfectly awful and I am SICK of rain! While I know God is not surprised by all of this and I know He's still in control regardless of how bad things look, it's frustrating to watch it all play out and not knowing what the outcome will be.
Prayer Requests
~ Please pray for Cairo. Pray for God's will to be accomplished. I firmly believe that God is doing something new through all of this flooding. I have no idea how it is going to play out. I have no idea if we will return to school or not this year. What I do know is that God will bring glory to Himself through this. Pray for the people to be changed - their hearts to be drawn to God through all of this.
~ My mom.
~ My Precious has a crazy week ahead. Please pray for him.
~ I found the 'be healthy wagon' and I'm going to try to get back on it this week. Please pray for me. I'm really bad at sticking with this stuff.
Prayer
Oh God, You are my God and I will ever praise You...I trust Your plan even when I can't see how it will all play out and even when it simply doesn't make sense. Each day this week, help me to know how You would have me use my time. Grant me discernment (I seem to lack it quite often). Lord, this week belongs to You.