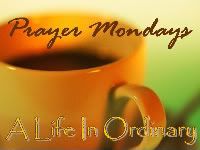 Well, Precious left this morning. He starts his new job this week. Please pray. We know this is God-initiated...God-ordained...however you want to say it, God is all up in this! ;-) However, Precious has to be away for 2 weeks. By himself. Staying in a hotel room (because the apartment isn't ready). He's a big boy and he'll be fine, but I would rather him be here or me be there. So, I guess I could use a little prayer too.
Please pray for my friends and family that I am leaving behind as we make this move. On Saturday some of my most favorite girls were able to be in the same room at the same time. It was so great to see everyone, but it makes me sad to leave. I have really awesome friends (God's doing - Lord knows, if it were up to me and my interactions, I'd never have any friends - I'm not a people person, ya'll). Please pray that God provides a least one good, reliable friend in Ohio. Girls need other girls.
We also need a church home - as do several other people in my life. Change. Change. Change. Please pray for all of those friends and family members that are seeking a new place to serve and worship as you're praying for Precious and I to find our church home in Ohio. Pray that everyone will end up exactly where God needs them and that He uses them in mighty ways.
Please remember my mom this week. She starts a new chemo regimen. We aren't really sure what to expect, but please pray that she responds to treatment better than they doctors could even imagine. We are praying for healing, people...God is a great big God. Right?