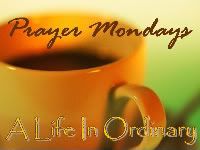 I'm back! Oh my goodness. The last few weeks have been insane! Thanks for your prayers (even though I wasn't posting requests I felt your prayers). Precious and I have found a place to live in Ohio. He leaves this coming Sunday and will be gone for 2 weeks before we can get our stuff into the apartment. He's staying in a long-stay hotel until the apartment is ready.
Please pray for us...especially him. He is starting a new job AND staying by himself in a little room. I think THAT alone is enough to drive a person mad. We are hoping they will call and say that we can move stuff into the apartment a little earlier (the current tenant would have to turn in the keys early), but God may have a reason for the move being the weekend of the 7th. It IS the weekend before the wedding, but it's also a holiday weekend for people like my Mom and SILTB. Please also pray that God will direct me in finding a job. I would really like to work at the university level and I have a few options with Kent State and The University of Akron being so close - I just don't know how difficult it is to get your foot in the door OR if that's where God wants me, so please pray for wisdom and direction for me.
Please continue to pray for my mom. She still has a few treatments left, but we are praising God for good news that she is responding to treatment AND that there will be 3 more treatments instead of 12.
My dad is still recovering from surgery. He went back to work this morning (with lots of restrictions, of course). Please pray that God continues to heal his body. He's still having pain in his left shoulder - pray that God just takes that away.