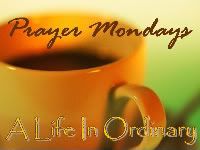 I'm back! Spring break was productive and refreshing (and extended by at least one day because of flooding). This weather is crazy! I don't ever remember there being this many stormy nights - back to back. And the rain...it just keeps coming.
Prayer Requests
~ My Mom. I think she's told enough people that it's ok to make it public here especially since it means prayer warriors interceding for her. She goes for a biopsy on May 3, but they're pretty sure she has breast cancer. Please pray for God's will. I know that He can heal in an instant but I also know that sometimes we walk through valleys. Please pray for grace and strength and peace for my mom.
~ My Uncle Roger continues his battle. From what I understand certain parts of his body are rejecting his stem cell transplant - which just seems odd. Please pray that God will give him strength and the doctors wisdom as they treat him and that his body would heal for good. Pray for my aunt as she faithfully stays by his side. I know she's exhausted.
~ My Precious
~ Did I mention Precious and I are getting married and they cut my position at school? I know that God will provide - He always does, but I really want to be where HE wants me to be and I'm not sure what that looks like (teaching music or something completely different). Being still is not my strongest suit, but I really want to wait on the Lord. I want to be still until He orders my steps. Please pray that I will be able to do this.
God, everything I listed above has the potential to cause me to worry and fret. However, I know that Your Word says that we should be anxious for nothing. Help me to trust You - really trust You - with all of these issues. These things weigh heavy on my heart and mind and I don't know what the end looks like in ANY of these situations, but I pray for YOUR will to be done. I know that I probably won't understand a lot of things, but please continue to just give me peace in knowing that You are in control. Order my words and order my steps this week. I don't want to go somewhere if I know that You're not there. Thanks You for the hope that You provide, especially at times when we simply don't know or understand what You're doing.
Amen