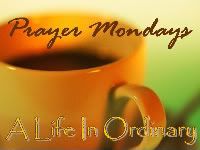 Praises
~I'm not really freaking out about the job thing. Perhaps I should be, but I don't feel the need just yet and for that I'm thankful.
~A great weekend get away was very refreshing.
~Even though I don't know what God is doing, I know He's doing something so I don't have to worry about it.
Prayer Requests
~My Uncle Roger - there were apparently some issues yesterday so please pray for his health and that God would intervene and give he and my aunt peace and strength
~My little brother. Please pray that God will have His way in lil bro's life - no matter what it takes that God will get his attention
~My Precious
~Frustrated with the food/exercise/losing weight/being healthy bit. Pray that God would give me strength, focus, and the will power to do what I need to do. Period.
~Please pray that God will give me wisdom and guidance as I make decisions regarding the future
Father, I praise You for being all-knowing and all-powerful. I thank You for Your faithfulness in the past and I thank You in advance because I know that You are going to continue to be faithful in all of the requests that are being lifted up to You this week by those joining Prayer Monday. I pray that You would meet the needs of the requests in Your way and in Your time - I confess that in my constant state of impatience my time and Your time are rarely the same, but I trust that You know what's best. So, come Lord and do Your work here this week.
Amen