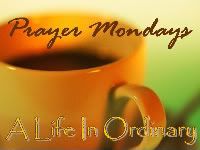 Oh weather, how I loathe you! Make up your mind what season it is! Sheesh, I have been sickly most of this week. It seems the weather is not my friend. It's been a decent week, though. I had a little break at the studio because half of my students were performing in a production of Hairspray (which ROCKED - congrats to them!). There were 2 afternoons where I sat on my couch and did what I wanted (which was pretty close to nothing).
This week I was able to take care of a few more wedding things (chipping away a little at a time) and My Precious and I were able to spend a little time together which was really nice. Saturday, I nixed my original plans and spent the day with my mom. We shopped and had our nails done.
I think sometimes when you're in a place of "I don't know" it's nice to just spend time with people you love.
Praises
~Time spent with those I love was super encouraging.
~I took some of my students on a field trip and no one died (in other words, they were very well-behaved and I didn't have to kill them)
~I am thankful for the movement I see - I know God is working in several situations that I am currently seeking His face over.
~My uncle Roger (who has been very sick) had a few great days last week where he was able to eat and felt like getting out of the house - so thankful for that.
Prayer Requests
~I am pretty sure I'm addicted to food and allergic to exercise. Please pray for me as I try to become un-addicted and un-allergic.
~My Precious
~My little brother. Please pray that God will have His way in lil bro's life - no matter what it takes that God will get his attention
~Please pray that God will give me wisdom and guidance as I make decisions regarding the future - I have a couple of job possibilities but I want to be where God wants me - His will, not mine.
~My uncle Roger - please pray that God will continue to strengthen him and heal his body
God, there is so much going on in my life and in the lives of those around me. I am thankful for the movement that I see. I am thankful for seeing Your grace bring healing to specific situations I have been praying for. Some days are still a little overwhelming, though. When those days come, help us to trust You with our whole hearts. As we go through this week, may we pour out our hearts before You each and every day - to empty ourselves so that there is more room for You. Remind us, God that You alone are the answer for whatever situations arise.
Amen