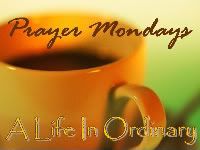 This has been quite the week for me. I was riffed Thursday night at our board meeting. I'm not sure what the future holds. I don't know if I am supposed to continue to teach music or look for another line of work. I feel like I am in a huge season of "I DON'T KNOW" and the only thing that I really DO know is that I don't like it very much.
Praises
1. I was able to spend some much needed time with My Precious this weekend.
2. God is BIG - even bigger than the boogie-man.
Prayer Requests
1. Work. I honestly don't know where to go or what to do, so I'm not moving until my steps have been ordered by God. Please also pray for the other teachers that were riffed or dismissed.
2. I don't want to be a worry-wart.
3. My Precious. His time at school is frustrating some days. Please pray that God would bring direction, clarity and understanding.
4. Please pray that I would be more disciplined both physically and spiritually - that my body would cooperate with my physical discipline efforts and that my mind and spirit would cooperate with my spiritual discipline efforts.
5. That I would be a good steward of what God gives me.
6. My Uncle Roger - please pray for healing
7. My little brother.
God, I don't know which end is up this week. I feel like I have been turned every possible way. I feel like You're shaking up my life and the lives of those around me. I know that all of this passed through Your hands before it landed in my lap. Help me to honor you with the decisions that I make and the steps that I take. I want Your will and purpose to be accomplished in my life and in the lives of those I love. Help me to trust You with my WHOLE heart.
Amen