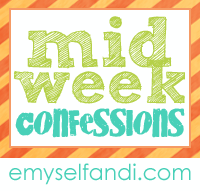 - I want a J.O.B. - no, seriously, I know that I am 'lucky', 'blessed', 'insert your own word here' to get to stay home but I really want to work! So much so that I am thinking about subbing. I really want something more permanent, but something a few days a week would be better than nothing at all.
- I am so glad that it's going to snow again! It was almost 60 degrees...in January...in neOhio! What? That is just crazy and I want snow, dang it!
- I like cooking.
- I really need to get on my e-bay selling, but I HATE selling on e-bay. It's such a pain in my rear! However, I'm going to work on a few pieces at a time. That should make it more bearable, right? (Who am I kidding? It's still gonna suck!) Oh well. I may get my guest bathtub cleared out (since that's where all of that stuff that needs to go on e-bay is residing).
- I NEED to find a storage unit and start moving stuff from the guest room! I keep putting it off because...well, I'm procrastinating! I dread taking 15 loads because I only have my car to it in.
-I am excited about today. I get to start a new study at church in the morning - meet some new women AND I get to go to worship team practice tomorrow night AND it is snowing! Hooray!