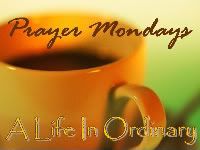 I know that I am a blog slacker, but so much has been going on in my life. My Precious got the job that he interviewed for and while I am freaking out a little about everything we have to get done in order to move and then wedding stuff on top of that, I'm really at peace. There are so many things that just scream, "Hey, God is smack dab in the middle of this!".
When Precious decided to go back to school, he was intending to finish a major in Physics. However, he sort of stumbled upon the Center for Advanced Friction Studies at SIU (GOD) and ended up deciding that Mechanical Engineering was the way to go (that was the shortened version). Through this, he ended up gaining experience with carbon-carbon friction materials (the CAFS lab does research for F1 racing teams) and that was exactly what Meggitt (the company Precious will be working for) was needing. Apparently, it's difficult to find someone with this experience...once again - GOD!
I lost my job at the end of the school year. They cut the music program in Cairo. (door closed) Nothing full-time was going to be open around us until January. So, this summer I have just been drawing unemployment and teaching part-time at the studio. Precious had a friend come and tell him about this job. The friend is not a US citizen and you have to be to work at Meggitt, so the friend puts Ronnie in touch with the job recruiter. (open door).
Precious and I have just been praying that God would close doors that need to be closed and open ones that need to be open - that He would make things so abundantly clear that we made no mistake in knowing that we were in HIS will. That happened after the interview. Precious flew to Ohio and interviewed on Tuesday of last week. They told him it would be this week sometime before they contacted him because they would need approval from the higher ups. We knew that he had a 50/50 shot - only 2 people were interviewed during the 2nd round. On Thursday - 2 days after the interview - Precious received an offer. Here's where it gets interesting. They offered him $2000 more a year than he had asked for. They offered a moving package that included flying Precious and I to Ohio for 3 days (accommodations and meals included) to find housing. The recruiter said that he has NEVER seen them offer to pay for the couple to come and find housing.
God, people. It's totally God. And it's abundantly clear that we are supposed to be serving in Ohio. Please pray for us as we attempt to find housing. Pray that it is as abundantly clear as everything else has been. We have to move everything before the wedding, so pray for Precious as he goes to live in Ohio and me as I stay here to finish up wedding plans.