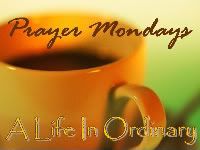 So, I'm late posting today but I spent the afternoon with my mama - prolly gonna do it again tomorrow. :-)
Precious and I could really use your prayers right now. He still hasn't heard anything from the company he interviewed with. They said up to 2 weeks. Tomorrow will be 3. I know it's all about God's timing. There are just so many things hanging in the balance. He doesn't know whether to enroll for Fall courses. I don't know what to do about my SCC classes. We don't know what to do about looking for a place to rent here because we don't know anything about the job. Please pray that God will give us direction and faith to believe in spite of everything that hangs in the balance.
Please keep praying for my mom. Chemo is going well. She is experiencing very few side effects. It's rather amazing to watch God work through all of this. However, she has problems judging when enough is enough and she starts back to school in a couple of weeks. I worry. So, please pray that God will help her to chill out and be able to let things go that don't have to be taken care of right at that moment (she's a 'complete all tasks before you stop' sort of gal and that doesn't really work so well when you are fighting something like cancer). So pray for her.