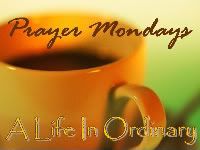 Join us for Prayer Mondays. You simply state your prayer requests, link up, then visit others who have linked up. You pray for them then leave a comment telling them you did so. Join us @
A Life in Ordinary
.
I am posting this from my phone....we'll see how it goes (and I just typed 'hoe' instead of 'how' so not very well). NOTE: I can't format on my phone so I had to drag out the computer.
The biggie this week is Precious' job interview results. Please just pray that God would have His way. We are both a little nervous and there are a lot of things up in the air until we hear from them. We are praying that doors would open and doors will close and that God would make His Will abundantly clear.
Please also pray for my mom. She goes for another round of chemo today. Please pray that God will continue to heal her body.
And for me, please pray that God will draw me closer to His side. I feel like in the middle of all of this chaos in my life I often lose focus. I want to be more passionate about the things God wants to use me to do...I want to be more enthusiastic about serving Him. I don't want to miss a 'divine appointment' because I was too busy to see it when it passed my way.