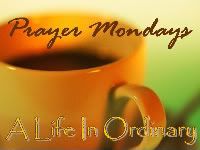 A lot is going on in my life and I really need prayer that I will be able to focus each day on what God has for me to do and that I would be able to discern His will and heart in the midst of the chaos and commotion. I'm so thankful for the time that I am getting to spend with my family during this season. God is so awesome in that He can bring so much good from from those things that generally suck the life out of us.
I have no job. That's a little frustrating. Unemployment should start soon, but it isn't as much as I had hoped (about half of what I was making--one should consider that Cairo is one if not THE lowest paid district in IL so half is pathetic). I'm concerned about getting married in October and 'making ends meet' because Ronnie will be in school until May. Please pray that God will give us wisdom in finding a house. I have faith that He will provide, but my humanness has a few questions regarding how.
Please continue to pray for healing in my mom's body. We go for Round 3 of chemo this week. Pray that the God continues to use whatever means necessary to rid her body of cancer and that His will is accomplished in the process.
ooooo....I have something else I'm thankful for today. So, Cape Comic Con (Nerd Fest, Geek Zone, whatever you want to call it) was this weekend. Ronnie and I usually help out (READ: Ronnie helps I. I harass people.) We didn't go to church because of it, but when we got to The Osage Center a church had set up shop for the morning. I worshiped with Vantage Point Church this morning and it was refreshing! So thankful!